Top 5 things to action today!
Last week we saw the Reserve Bank announce a 10th interest rate rise since the low in November 2020.  For many mortgage holders on fixed rates, the impact may not yet be felt.  However, we have crunched the numbers and report below the estimated interest expense increase, based on rates we can see in the market.  Note, this doesn't include principal payments, just the interest.  So, in the coming 12 months there will be many families and businesses working hard to find the extra cash to pay their loans.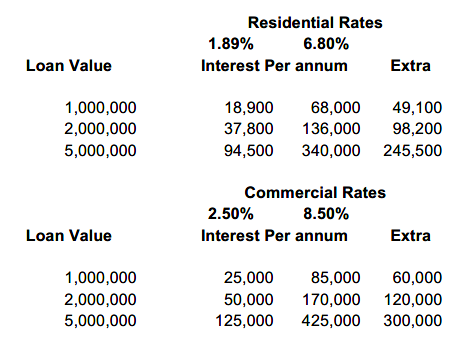 In addition to the interest rate rises, inflation is currently running at 7.8%.  The last time inflation was this high in Australia was in 1987.  The attached link provides a good graph of where it sits.  https://www.rba.gov.au/inflation/measures-cpi.html.
Most economists are estimating a return to lower inflation in 2024, however, in 1987 the unemployment rate was 7.8%.  The current unemployment rate is sitting in that 3.5 to 4% range putting further pressures on wages.  While we are starting to see some layoffs to free up the market, this is taking some time. Therefore we recommend businesses plan for the business to be dealing with the effects of this inflationary period for at least the next 2 to 3 years.
---
The top 5 important actions for today:
Negotiate better interest rates on loans. Pick up the phone today and speak to your bank about sharpening the pencil on both residential and business loans.  If your existing bank will not reduce your rates, please shop around as the banks are offering significant interest rate bonuses to new customers.
Undertake forecasts to factor in price rises and if necessary sale reductions. It is critical that businesses undertake accurate forecasts on proposed expenditure in the next 12 to 24 months and factor in a price rise.  Furthermore, clients selling goods and services in the consumer discretionary category (such as clothing, homewares, dining, personal services) should factor in volume decreases unless market share gains can be made from competitors.
Reduce business spending.While you may be able to increase some efficiencies and reduce some prices, this is going to be extremely challenging for businesses as the prices for all business expenses will be going up with inflation (see previous item 2).  However, the two key areas of focus should be rent and wages as they normally are the highest value items in the profit and loss account.   If you are coming to the end of your lease, as commercial space is freeing up you may be able to negotiate better deals on your lease.  However, the most likely area for cost reduction will be wages.  We recommend businesses review their staffing and ensure they have the most efficient team for best investment possible.
Reduce personal spending. A weekly saving of $500 results in an annual saving of $26,000, which will go some way to reducing your increased interest bill.  Now is a great time to review your personal spending in the areas of dining, travel, tolls, groceries, subscriptions, fuel, discretionary clothing and household items.
Redeploy cash savings. If you are sitting on cash savings, look at options to use this cash to offset existing loans. Alternatively, shop around for high interest savings and term deposits.  If you have a non-trading or investment company in your structure, opening the high interest account in this type of entity may assist with keeping your tax bill down on interest.
If you require assistance with any of these items, in particular with forecasting price increases, please contact our office and we would be glad to help.
---
Date: 17/03/2023
 
The Macro Group Limited AFSL:485843 Tax Agent Number 24 76 5236.
The information in this article  contains general information only. We have not taken into consideration any of your personal objectives, financial situation or needs. Before taking any action, you should consider whether the general advice contained in this communication is appropriate to you having regard to your circumstances and needs, and seek appropriate professional advice if you think you need it. We recommend that you consult a licensed or authorised financial adviser if you require financial advice that takes into account your personal circumstances.